​Gum Disease

Definition
Gum disease is an inflammation of the gum line that can progress to affect the bone that surrounds and supports your teeth. The three stages of gum disease — from least to most severe — are gingivitis, periodontitis and advanced periodontitis.
Signs & Symptoms
Gum disease can be painless, so it is important to be aware of any of the following symptoms:
Swollen, red, tender or bleeding gums
Gums that recede or move away from the tooth
Persistent bad breath or bad taste in mouth
Loose teeth
Visible pus surrounding the teeth and gums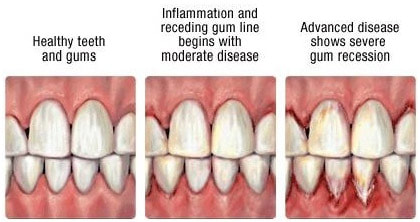 As you brush your teeth, you might notice a bit of redness around your gums. While you might be tempted to ignore the blood, bleeding gums is an early sign of gum disease . The bleeding is due to inflammation in the gums caused by build-up plaque or overly vigorous brushing. If you notice some blood when you brush or floss, it is essential that you see a dentist.
Prompt treatment can usually reverse symptoms of gingivitis and prevent its progression to more serious gum disease and tooth loss. Effective treatment requires professional care followed by stepped up oral hygiene at home.
Professional gingivitis care includes :
An initial evaluation and thorough dental cleaning to remove all traces of plaque and tartar
Instruction on effective daily home brushing and flossing techniques
Regular follow-up professional checkups and cleaning
Fixing dental restorations that hinder adequate hygiene, if necessary
​Follow-up home care includes :
Brushing at least twice a day. An electric toothbrush may help you brush more effectively.
Flossing at least daily.
Using an antiseptic mouth rinse, if recommended by your dentist.
Your initial professional cleaning will include use of dental instruments to remove all traces of plaque and tartar — a procedure known as scaling.
​
Misaligned teeth or poorly fitting crowns, bridges or other dental restorations may irritate your gums and also make it harder to remove plaque during your daily home care. If any of these conditions is contributing to your gingivitis, we may recommend fixing these problems.
Gingivitis usually clears up after a thorough professional cleaning — as long as you continue to follow a program of good oral hygiene at home. We will help you plan an effective home follow-up program.
If you're consistent with your home hygiene, you should see the return of pink, healthy gum tissue within days or weeks. You'll need to practice good oral hygiene for life, however, so your gum problems don't return.
DEPENDING ON THE EXTENT OF GINGIVAL DISEASE AND INFLAMMATION , THE TREATMENT MIGHT RANGE FROM SIMPLE CLEANING TO SURGICAL MANAGEMENT OF INFECTION.

WE WILL CHOOSE THE BEST TREATMENT PLAN FOR YOU AFTER A THOROUGH EVALUATION AND FOLLOW UPS .