STERILIZATION CONTROl

We follow a strict protocol for clinical hygiene and safety
Instruments are sterilized in a four-step process that includes:
Manual cleansing to remove deposits and residue.
A 3M Enzymatic solution (Ethylene Glycol , 2-Merthoxymethylethoxy Propanol , Sodium Tetra Borate Decahydrate , Alkyl Derivatives ) is used in this step.
Packaging in sealed pouches after instruments are dried
Placement of sealed pouches in an autoclave that uses pressurized heat to guarantee 100% sterilization.
All sterilized sealed pouches placed in UV chamber to prevent contamination ( see below )
All surfaces that patients come into contact with are covered with a cling film and changed after each treatment.
Our dental chairs are cleaned with isopropyl alcohol and chlorhexidine spray.
Doctors and dental assistants wear disposable masks, gloves and shoes that are allowed to be worn only in the clinic.
Doctors and dental assistants undergo extensive training in sterilization protocols.
Our patients are seated in unique dental chairs that are equipped with retractable valves; the valves prevent the backflow of oral fluids into the chair tubing. Most dental chairs allow the backflow of these fluids into the tubing, and though the tubing is sterilized after a treatment, it is far more effective to prevent oral fluids from passing into the tubing in the first place.
AUTOCLAVE , UV CHAMBER - STRICT STERILIZATION PROTOCOL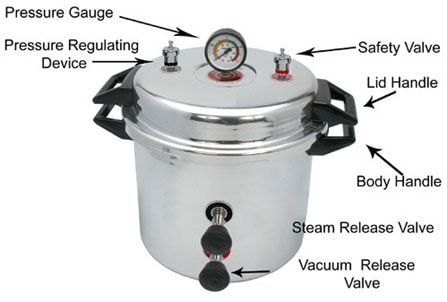 AUTOCLAVE TO STERILIZE INSTRUMENTS BY STEAM UNDER PRESSURE

ULTRAVIOLET LIGHT CHAMBER

Exposure to ultra Light makes the surgical instruments super clean. Ultra cabinet is an Uniquely designed enclosure with properly stacked Trays to ensure correct exposure to ultra violet light from the tube.

We have high quality UV Sterilizers that are made from superior quality Stainless Steel cabinet and consist of 12 Stainless steel trays. Our UV Light Sterilizer is equipped with Philips & Osram UV tube, which emits light, and kills all the germicides. UV Light Sterilizer is an ideal tool for avoiding contamination of instruments, once sterilized.

FEATURES :

Made from high quality stainless steel
Equipped with Philips & Osram UV tube
Ideal for avoiding contamination

Autoclave Sterilization Pouch Bags
Packaging is an important step in the sterile processing of reusable medical devices. Sterilization packaging
allows sterilization of enclosed devices
maintains sterility until opened
provides for aseptic delivery
---
UR SAFETY IS OUR PRIORITY . FROM CHECK UP MIRRORS TO TREATMENT APPARATUS ALL IS THOROUGHLY STERILIZED AND DISINFECTED AND THESE SEALED STERILE POUCHES ARE OPENED IN FRONT OF OUR PATIENTS .

AT DENTZANIA , WE ENSURE HYGIENE … YOUR HEALTH IS OUR PRIORITY